CATHOLIC priest Father Bob Maguire has called for a review into the way religion is taught in schools.
The priest and community worker said he believed religious education should be broader than instruction in one belief system.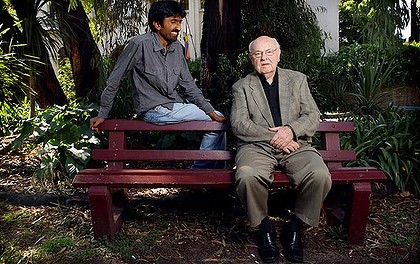 "Nervous" about denominational schools: Father Bob Maguire takes a seat with InterAction multi-faith group co-founder Ali Majokah. Photo: Rebecca Hallas
''Children can have religious instruction in parishes, mosques and ashrams.
''At school, there ought to be a general religious curriculum to introduce children to the ideas and motivations and rituals - in a word, the ethos - of all the religions,'' said Father Bob, who is the parish priest in South Melbourne.
Primary students at government schools must attend special religious instruction classes, which are run by volunteers, for half-an-hour a week, unless their parents choose to opt them out.
Although other religions including Judaism, Islam and Baha'i, are also accredited to run courses, 96 per cent of special religious instruction is provided by Christian education provider Access Ministries.
Access Ministries insists its volunteers do not proselytise, but some parents say their children come home from school saying they were taught they must believe in God.
An army chaplain during the Vietnam War, Father Bob said the importance of teaching soldiers about honesty and truthfulness, without infusing religion into character training, had been impressed on all the chaplains.
He said religious instructors in schools should lead open-ended discussions that drew no conclusions.
''It should be mum and dad who help children come to conclusions, not the instructor in religious class,'' Father Bob said.
Father Bob also believed it was a ''jolly good idea'' for Australia to have community schools rather than denomination specific schools.
''I have been nervous about denominational schools all my life because of the Northern Ireland thing,'' he said.
''[Melbourne Football Club chairman] Jim Stynes - God love him - was one of the first to say he was interested in going back to Ireland to fund combined schools, so Roman Catholics and Protestants would be going to the same schools to learn,'' he said.
''You have to get to learn about one another before you can live with one another.
''If you keep separating and dividing you are going to foment distrust, dislike and fear. Fear is the killer.''
Father Bob is the patron of InterAction, a multi-faith youth network that includes Christians, Hindus, Muslims, Buddhists, Jews, Sikhs, a pagan, atheists and agnostics.
InterAction co-founder Ali Majokah, who grew up as a member of a persecuted Muslim minority religious group in Pakistan, said a youth roundtable earlier this month had overwhelmingly called for all religions to be taught in schools.
''The current system is unfair because it allows for indoctrination to occur. It allows for students to be instructed in one religion rather than giving them a broader perspective,'' he said.
Education Minister Martin Dixon has ruled out a review of the controversial special religious instruction program.
Article by Jewel Topsfield, April 18, 2011 (The Age Newspaper - Click here to view)