In late August, St Kilda Hebrew Congregation held its Second Annual Multifaith and Multicultural Week, the highlight of which was a wonderful special Shabbat (sabbath) service and Kiddush (asmall meal). Apart from the 80 Jewish congregants attending, the Shabbat event included 40 leaders from 16 diverse faith and ethnic communities gathering to see behind the proverbial curtain, breaking down stereotypes and building friendships.
The Congregation has an extensive history in St Kilda going back 152 years, with past members including General Sir John Monash and former Governor General Sir Zelman Cowen.
Guests included Imams, priests and diverse community leaders. As well as individual community leaders, Rabbi Yaakov Glasman and Synagogue President Janice Iloni-Furstenberg welcomed leaders from the Faith Communities Council of Victoria, the Victoria Police Academy, Victorian Council of Churches, Victorian Multifaith Advisory Group, Victorian Multicultural Commission and Council of Christians & Jews.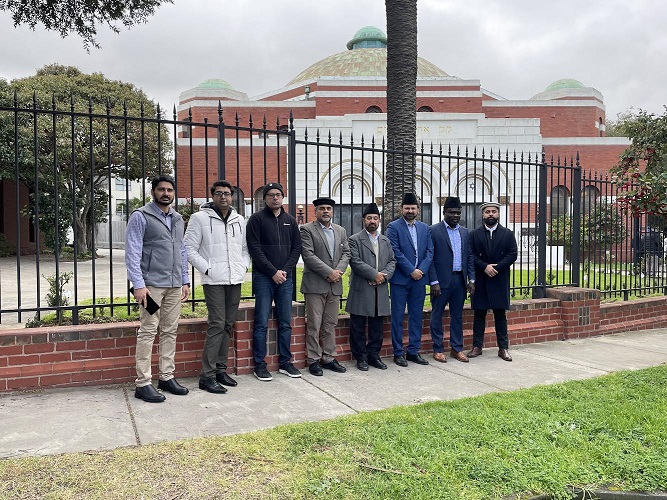 VIP guests through the week included Minister Colin Brooks MP who was the keynote speaker at the Kiddush, local member Sam Hibbins MP, and Anglican Archbishop Philip Freier.
Communities represented at the Shabbat event included the Ahmadiyyan, Anglican, Baha'i, Catholic, Coptic Orthodox, Hindu, Muslim, Sikh, Syrian Orthodox, East Timorese, Indian, Somali, South Sudanese, Turkish and Vietnamese communities.
Rabbi Glasman addressed the congregation and guests with a sermon aligned with the Multifaith & Multicultural Week. A short synopsis of his sermon is presented below:
"Abraham (or Ibrahim as he is known in the Islamic tradition) was a leader who exhibited an incredible paradox throughout his life.
On the one hand, he lived a most individual life. He was very different from his family and community and chose his own spiritual journey. His Hebrew surname was "Ivri" - literally "Jewish person" but etymologically related to the Hebrew word "Aver" - meaning "the other side". He lived, metaphorically, on the "other side" of those in his community. His beliefs and practices were different to those around him.
And yet, after rising to great success in his leadership, rather than secluding himself and living an isolated and cloistered life, he chose to engage with the wider community. He built a tent in the desert which was open from all four directions so that wayfarers could access his unparalleled hospitality without hindrance. He opened his tent to all humankind irrespective of their beliefs, practices and predispositions. He built a community around the theme of unity and harmony.
And so, on the one hand he never relinquished his individuality whilst at the same time, he never lost sight of the community. The gathering at St Kilda Shule was our small way of trying to emulate this ideal - that every single participant retained their individualism, whilst at the same time breaking bread together as part of a wider tapestry of humanity all bound together by the common thread of having been created in G-d's image."
by David Marlow MBA MAICD (27/08/2023)